Page 1 - Bajaj Radiance Rimless Surface PC Downlight
P. 1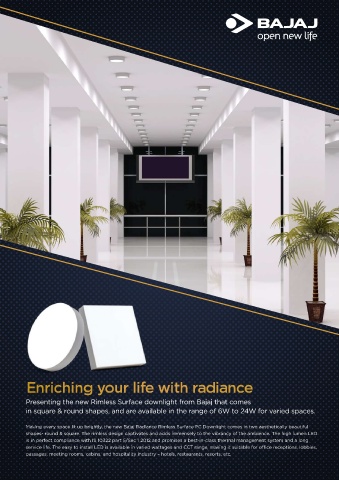 Presenting the new Rimless Surface downlight from Bajaj that comes
          in square & round shapes, and are available in the range of 6W to 24W for varied spaces.


          Making every space lit up brightly, the new Bajaj Radiance Rimless Surface PC Downlight comes in two aesthetically beautiful
          shapes- round & square. The rimless design captivates and adds immensely to the vibrancy of the ambience. The high lumen LED
          is in perfect compliance with IS 10322 part 5/Sec 1 2012 and promises a best-in-class thermal management system and a long
          service life. The easy to install LED is available in varied wattages and CCT range, making it suitable for o ce receptions, lobbies,
          passages, meeting rooms, cabins, and hospitality industry – hotels, restaurants, resorts, etc.